The device alone is shorter than 1m in lateral dimension and is suited for onsite inspection of bridges and bridge beams.The product can easily achieve submillimeter X-ray focusing size and can take high-resolution X-ray images. MIC lineup includes models with energy in the range of 1〜20 MeV.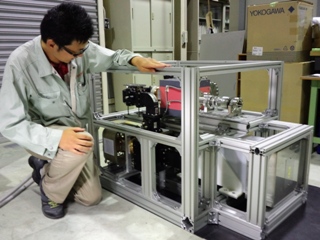 The picture above shows our magnetron-based model, 1MeV MICROTRON X-ray emission apparatus "MIC1".
MIC Focus Size
We have measured the X-ray focus size of the microtron electron accelerators MIC1 and MIC6. The result was an amazing 0.2 mm. The limit for LINAC is 1mm. Such a small focus size is possible because of the well-aligned electron energies, which enable X-ray imaging with extraordinary resolutions.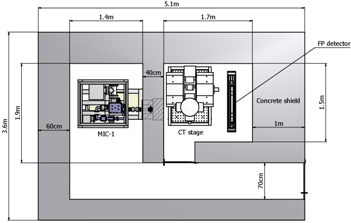 This is an example of the MIC X-ray CT scanning device configuration including beam line and shielding.
MIC Lineup
1 MeV

4 MeV

6 MeV

10 MeV

20 MeV

Energy
[MeV]
0.5 - 1.5
3.5 - 4.0
5.0 - 6.0
8.0 - 10.0
12.0 - 20.0
Beam current

500 mA
250 mA
200 mA
200 mA
150 mA
Beam power

max 10 kW
max 10 kW
max 20 kW
max 20 kW
max 20 kW